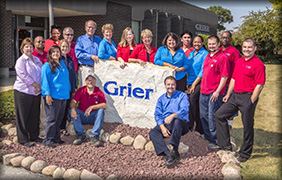 Grier Abrasive Co., Inc.
South Holland, IL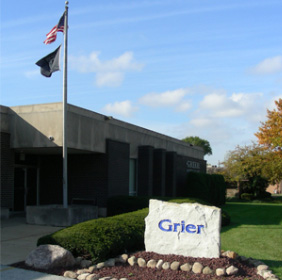 GRIER was established as a privately held business in 1966 by James Grier on the south side of Chicago. In the beginning, GRIER's products were primarily mounted points for the automotive, dental and aerospace industries. This left plenty of room for growth and product line expansion.
In 1998, Virginia Yaksic, GRIER's Vice-President, purchased the company. Her first move was to expand production capacity by relocating GRIER to a much larger facility in South Holland, a suburb of Chicago. With the new 60,000 square foot facility, GRIER expanded its Vitrified line by obtaining added kiln capacity for larger wheels and abrasive segments.
GRIER incorporated the second phase of expansion between 2005-2011. This included increasing Resin Bond and GRIER-TEX (cotton fiber) capacities, along with the introduction of GRIER-BRITE (unitized nylon abrasive) and GRIER RUB-BRITE (rubber bond).

The third phase of expansion was completed in 2012 with the purchase of a state-of-the-art kiln, which doubled the company's firing capacity. This aggressive move allowed GRIER to maintain its excellent lead times while keeping up with the increased demand for product – especially for their successful abrasive segments line.

GRIER has positioned itself as one of the industry leaders for the manufacturing of small abrasive mounted points, segments and wheels up to 12" in diameter. Sales are driven through various avenues including: industrial distributors, catalog houses, OEM's and hardware private label programs. GRIER has been supplying the major aerospace firms for many years. This requires a strict adherence to quality standards, repeatability and high performance – a testament to the superiority you can expect with GRIER products.

GRIER maintains excellent delivery times, supported by outstanding customer service – all while keeping pricing competitive. Innovation and adaptability have always served as cornerstones at GRIER. In an effort to find solutions that will make the industry better, GRIER continually invests time in R&D. A couple of these recently developed product successes include the "Patent Pending" Grier-Flex-System (GFS) and the GRIER-20 segment shape.

No matter the application, GRIER is here to assist with your grinding needs. Call GRIER today 708-333-6445 and let them show you how they can find your perfect solution.