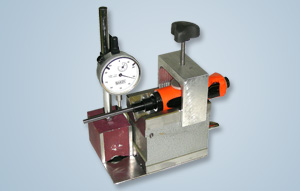 Now available for the first time industry wide, GRIER has introduced an assembled kit capable of testing your grinder's "Total-Indicated-Runout" (T.I.R.) right on the finishing line. This testing assembly will aid you in solving the old question of "tool or attachment". Only if your grinder is operating withinm its designed parameters can you address the needs of:
Minimizing Finishing Time
Improving Quality of Finish
Reducing Rework Due to Poor Finish or Gouging
Increasing Life of Mounted Points, Carbide Burs and Coated Abrasives.
Improving Safety
 
| | | |
| --- | --- | --- |
| Tool | GRIER Suggested Max. T.I.R. Allowable 2, 2-1/2 & 3" Mandrels | ANSI Max. T.I.R. Allowable 1-1/2" Mandrel |
| Grinders 0-25,000 RPM | 0.005 in. (0.13mm) | 0.007 in. (0.18mm) |
| Grinders 25-40,000 RPM | 0.003 in. (0.08mm) | 0.005 in. (0.13mm) |
| Grinders 40,000 + RPM | 0.001 in. (0.03mm) | 0.003 in. (0.08mm) |
Establishing a Maintenance Program Tailored to Your Tool Use. In the years of responding to customer inquiries , GRIER has found that the prime culprit of a problem in the field is grinder runout. Many plants are unaware of the allowable runout tolerances. The major grinder manufacturers maintain internal spindle runout of 0.0005" (0.013mm), not to be confused with 0.0050" (0.130mm) as checked with a gage pin one inch out of the collet. ANSI will soon publish recommendations that the runout on a precision dowel test pin mounted in the collet shall not exceed the following T.I.R. readings, when measured at a distance of 1" (25mm) from the front end of the collet, or at a distance equal to the depth of the collet, whichever is shorter.
Grier Run Out Tester Troubleshooting Guide
If you answer yes to any of the following, runout could be your problem:
Are only one or two operators having problems while others are not?
Are you having problems with both carbide burs and points?
Do your shanks/mandrels show a scoring on the metal from the collet?
Possible causes of runout
Dirt and grime in the collet
Worn collet
Excessive tightening of the collet
Hitting the collet wrenches to remove the carbide bur or mounted point
Internal wear of the grinder
To minimize runout problems
Set up a maintenance program for the cleaning and replacement of the collets. Daily cleaning is recommended.
Only hand tighten collets with the appropriate wrenches (very little force is necessary, collet assemblies are precision made).
Avoid striking the collet or wrenches.
If runout is found, try the following before repairing the grinder
Use compressed air to blow out the nosepiece, chuck body and collet.
Clean or replace the collet.
If runout type problems still persist
Test the grinder for runout to evaluate if it needs to be rebuilt.
No sense wasting time and money repairing something that isn't broken.
KIT INCLUDES
Metal Base
Magnetic Gauge Post
Magnetic Tool Holder
Adjustable Support Pins
Holding Clamp
Precision Gauge (0.0001")
1/4" dia. Carbide Pin
1/8" dia. Carbide Pin
Tool Protection Disc
Wrench
1/4" Collet
1/8" Collet
Carrying Case
Assembly Instructions