When you need to go inside a work-piece or work around corners, GRIER helps you do that with the GFS . No more hard-to-reach places!
GFS: STANDARD
Smaller Mounted Points
Smaller Carbide Burs (3/16" dia.)
Smaller head size for smaller areas
Use for general applications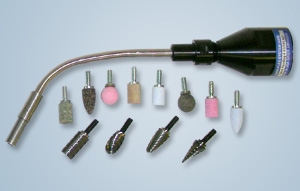 GFS: HEAVY DUTY
BIGGER Carbide Burs (3/8" dia.)
BIGGER Mounted Points
BIGGER internal components
Use for more robust finishing and bigger defects
The GRIER-FLEX-SYSTEM (GFS) attaches to a variety of different gr inders thanks to its patent pending design. This one-handed solution to many di fficult situations allows you to finish the impossible casting or work-piece a nd reduce scrap. You just bend the outer sheath with a tubing bender to match your contour and choose your mounted point or carbi de bur.
The BENEFITS are:
Ease of changing mounted point s (simple threaded design)
Protective sheath remains cool via use of bearings and tubing liner
Protective sheath is thick walled and rugged for industrial use
The inner flexible shaft has a high torque capacity
CAUTION: This solution requires work in a guarded, enclosed space. Use conventional mounted points wherever possible as your first choice.