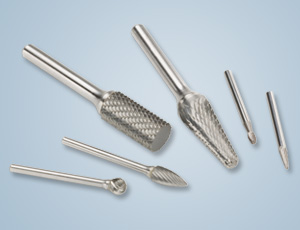 Click here to see Carbide Bur sizes
Carbide Burs are the newest product line addition to the GRIER family and come in a wide variety of shapes, sizes, lengths and flute types. They are used for rapid stock removal on medium and hardened steels, stainless steel, titanium, inconel and many other ferrous and non-ferrous metals.
CNC Machine Ground
Consistent tolerances.
Runs smoother.
Lasts longer.
Reduces fatigue on the operator.
Double-Ended Burs
These burs have cutting flutes on both ends of the mandrel to provide an economical solution while also reducing inventory. Ask your representative if your size and shape qualify.
Re-Sharpening Program
Some burs can be re-sharpened to like-new condition. Ask your representative if your size and shape qualify.
Re-Conditioning Program
When a bur cannot be re-sharpened, the bur head can be removed and a new one fitted to the mandrel for less cost than buying a whole new bur.
Types of Cuts
Standard Cut
General purpose fluting is for medium stock removal and finish. Good for steel, cast iron and ferrous metals. This cut will be supplied unless otherwise noted.
Double Cut
Cross-fluted pattern is the most versatile cut that removes metal faster in harder materials, reduces pulling action of bur, gives operator greater control and reduces loading by having smaller chips and slivers. It can also be run at slower speeds than normal.
Chip Cut
Fluting design is in-between standard and double cut designs and is available upon request.
Aluminum Cut (NF)
Extra deep fluting is designed to eliminate loading on Non-Ferrous materials.
Fine or Coarse
When a medium cut does not suit your needs, please specify a fine cut for a finer finish, or a coarse cut for rapid stock removal. Available for single, double and chip cuts.