CUSTOM MANDRELS & POINTS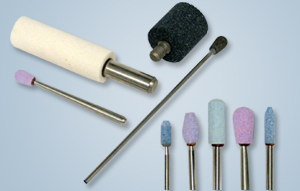 The core of GRIER has always been mounted points! Over the decades, customers have come to trust GRIER to solve unique applications. GRIER accomplishes this by working with the customer to find a "custom" shape or "custom" mandrel or BOTH! Since GRIER"s beginning, the number of "special" shapes has grown to well over 500. For reference, the number of standard ANSI shapes is under 200.
Most mounted points and mounted wheels can be used universally between many different applications, but occasionally some mounted points evolve into very specialized items. Contact GRIER for information about customizing points or mandrels for your particular application.
---
CUSTOM WHEELS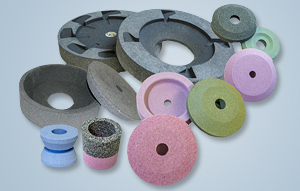 GRIER has gladly welcomed all special grinding, dressing, and finishing applications over the years. Pictured here are a wide variety of wheels that showcase the truly custom solutions GRIER can provide. Some of the special features include: Combination Wheels, Rotors & Stators, Special Faces and an extensive range of recess configurations. Please bring your ideas, big or small, to GRIER for a customized solution review.
---
CUSTOM STONES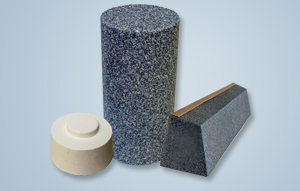 GRIER offers plenty of standard shapes and sizes for sticks and stones, but even with hundreds of options, custom stones are still needed. One example is large diameter (1-3") round stones that are used in agricultural farming equipment to sharpen blades on harvesting equipment. The stones are contained within the equipment so the farmer can keep working without need to dismantle his machinery frequently.
Another example is a unique hand stone with a special top profile to match a customer"s special application.
A third example is a custom cut stone with a precision angled face that is used to clean off slag from steel mill rollers. Specially affixed pads help locate and lock-in the stone to absorb the forces and stresses of the industrial steel mill roller.
---
CUSTOM CARBIDE BURS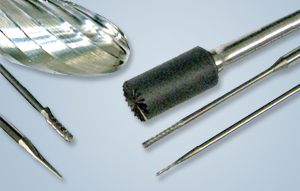 Just as GRIER has customized points, wheels and stones, they have also ventured into custom solutions for carbide burs. Pictured here are a few examples:
Double-ended burs
Special step-down burs
Long tapers
Small diameters to 0.040"
Safe-Side burs (Burs with only an end-cut so the sides of the bur won"t damage other critical areas on a work-piece or casting.)
JEDI-CUT burs (Burs with very robust flute design for tough cutting applications.)
---
ABRA"-SICLE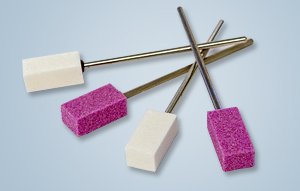 Abra"-Sicles are rectangular or square mounted points used in association with pneumatic or electric reciprocating die profilers in the Mold, Pattern, and Tool & Die Industries. Custom characteristics include: shape, size, special contours, abrasive formulation and a variety of When comparing an Abra"-Sicle to hand sticks, the Abra"-Sicles will typically need a slightly finer grit versus hand sticks due to the speed of the profiler. While vitrified bonds are most common, also try the Abra"-sicle in GRIER-BRITE or GRIER-TEX for custom polishing.
---
FILTERS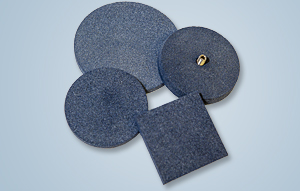 These non-traditional abrasive parts are used for porosity testing as filters. Sometimes referred to as "porous stones", these filters are actually precision made in different diameters, thicknesses, and formulas to match a variety of laboratory equipment including permeameters, consolidometers and volume change meters. Some filters are square while others have custom fittings for even more specialized applications. GRIER provides exacting care to keep filter porosity consistent for these critical devices.