REACH-IN... and get the job DONE!
When you need to go DEEP inside a work-piece, GRIER helps you do that with different solutions. No more hard-to-reach-places!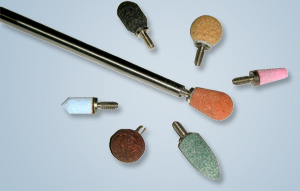 The #500 Reach-In Mandrel
A 1/4 x 6" tapered spindle tapped and threaded to receive a mounted point with a threaded mandrel. This mandrel allows you to reach into a confined space where a conventional mandrel cannot reach.